Choral Festival Costa Rica for Peace 2024
Welcome to the 7 Edition
June 19-22, 2024
Join us in June for an unforgettable experience at the International Choral Festival Costa Rica for Peace 2024. Get ready to raise your voice for peace in the beauty of a tropical paradise.
Costa Rica, a country nestled between the Caribbean and Pacific coasts, offers a harmonious blend of natural beauty and cultural diversity. It is a land where people live in peace, champion democracy and uphold human rights, while cherishing their connection with nature.
The International Choral Festival Costa Rica for Peace is a magnificent celebration of music, nature, culture, and, above all, peace. It's an incredible opportunity for passionate choral singers from across the globe to come together and share their talent with local communities and audiences.
Immerse yourself in the enchanting atmosphere as you embark on inspirational music tours, attend transformative workshops, and witness breathtaking concerts. Discover the beauty of Costa Rica's stunning landscapes, encounter diverse wildlife, and enjoy its captivating attractions, including volcanoes, rainforests, and pristine beaches.
Be a part of a global movement for peace through music.
Join the International Choral Community for Peace. The International Choral Festival for Peace in Costa Rica goes beyond being just a music festival; it is a powerful global movement that harnesses the transformative power of music to promote peace, understanding, and cultural exchange. By participating in our festival, you become a member of a vibrant community of musicians from all corners of the world, united by a shared mission to use music as a tool for positive change. Our festival serves as a melting pot of singers and conductors from diverse backgrounds and traditions, fostering an environment of dialogue, collaboration, and celebration. Through our music for peace initiatives, you have the opportunity to make a meaningful difference in the world and be an integral part of a movement that is touching lives and creating lasting impact.
The International Choral Festival for Peace.
Participate Costa Rica is not just a music festival, it is an opportunity to experience the natural beauty and cultural diversity of Costa Rica. Immerse yourself in the lush tropical jungles, the sparkling beaches and the impressive volcanoes. Discover the rich history and traditions of the country through its food, music and art. With our music travel packages, you'll have the opportunity to explore the country while performing in community venues of Costa Rica. Join us for an unforgettable journey of music, education, and adventure.
Concert Tours, Travel Music, #musicforpeace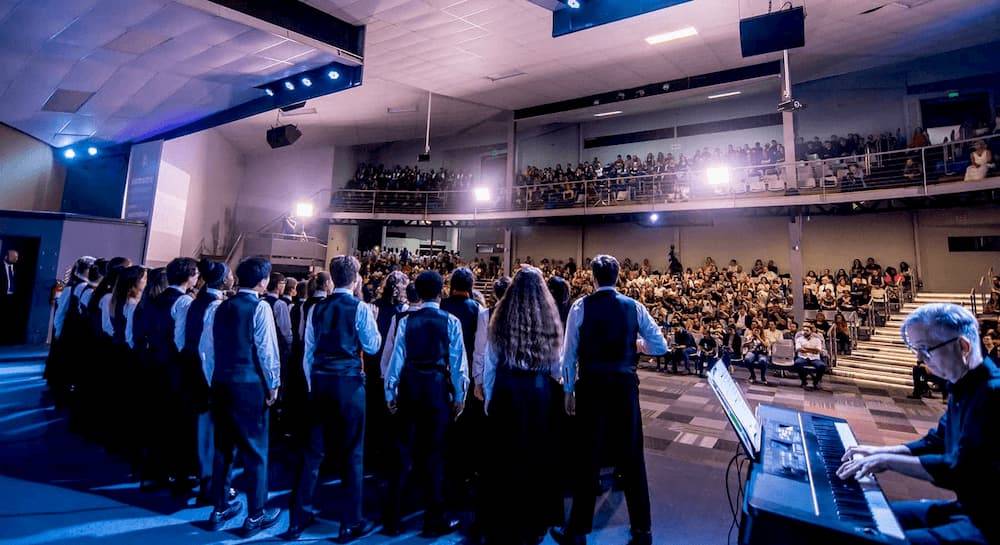 VII Edition, 2024
Promote peace through choral music is our purpose.  We perform concerts to reach the hearts of communities.  Welcome all choirs to the International Choral Festival Costa Rica for Peace 2024, a non-competitive showcase. From start to finish, choirs are taken care of by the organization. The festival program includes:  lodging, transportation, concerts including choral workshop performances. We are part of the International music festival in Costa Rica
If you love choral singing and want to make a positive impact in the world, join us for this fabulous event. Follow your heart's passion for a more caring and joyful world. Keep your choral singing alive and join us for the 6th edition of the International Choral Festival Costa Rica for Peace 2024.
Individual choirs singing for peace.
This new option to participate in Costa Rica outside the festival is a great joy for us. Some choirs don't have the chance to sing with us because the dates we have planned for the festival don't work for them. It is for this reason that we propose the possibility of coming to the country individually to sing for peace we will have 2 dates per month enabled. We will be attentive to your requests.
Due to the great need in the choral environment to participate in face-to-face activities at an international level.
One choir per date, two dates per month. We will receive the participation of individual choirs always with an eye on our main purpose, which is the promotion of peace.
Sing & Travel Individual Choral Groups, Apply here